You know it, we know it, local businesses and contractors are up against this digital industry revolution. With increasing online presence and everyone utilizing the power of the internet to compete locally, there are only a few that actually thrive and dominate.
We have laid out 3 marketing tricks that will help you propel your local roof lead generation to new highs. To top it all off they require little or no money to start.
1. Use Laser-targeted Facebook Lead Ads
With almost 2.5 billion users on Facebook and one of the best targeting capabilities, Facebook is one of the best ways for local business owners to find their clients.
Let's say your roofing business has a 'Spring Cleaning' roofing special discount.
You will need to start getting interested homeowners to inquire about your offer.
That's where targeted Facebook Lead Ads come in.

Essentially, this is how it works::
Step 1

: A potential lead scrolls through their Facebook Feed, they get a glimpse at your ad, and click the call-to-action button.

Step 2:

A form opens

within the ad

itself. The potential lead fills out their contact information (the fields are customized by you).

Step 3:

The lead submits the info to you. That information is automatically sent to your company's CRM.
Here is the best part! This lead generation strategy actually works.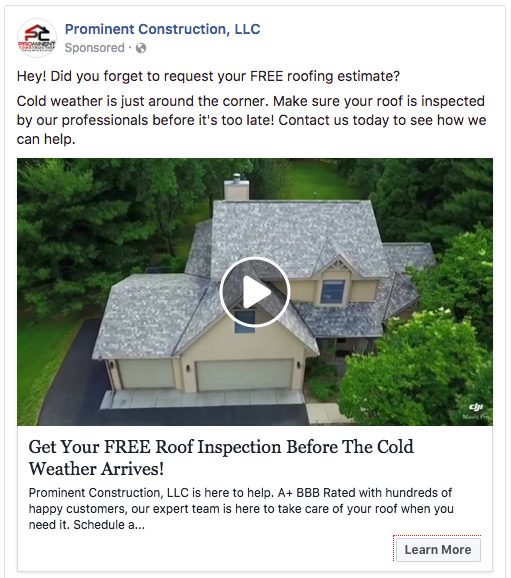 Roofing Lead Ad Example
2. Create a Powerful Localized Lead Magnet
Creating a lead magnet is essentially an effective way to get potential leads to trade their personal information with you for an irresistible offer that you will give to them. The challenge of course is that your roofing business doesn't need leads that are not targeted or interested in what you have to offer.

So creating a bland and generic lead magnet that attracts everyone is not very profitable.

Instead, focus on creating a lead magnet that is exclusively irresistible and appealing to your local market and area.

Free Quote Estimate is something that is proven to be effective for a great number of roofing businesses and companies.
3. Create a Localized Lead Generation Landing Page
If you are targeting multiple markets or local branches, craft landing pages specific to those areas for even greater lead generation potential and targeting precision.

For example, let's say you run a big roofing business in Tampa. You may have your headquarters there but another office in Orlando, or Pensacola. Your potential leads will be far more likely to engage with your local branch.
There are just a couple of things to keep in mind here:

You will need targeted traffic coming to your page.

Google Ads

is a great way for starting webpages to get exposure.

Focus on Local SEO. You want to be on the top of the list when someone Googles "Best roofers in Florida". Keep in mind to have your listing clean and properly managed of all the

negative online reviews

.
Ready To Take Your Roofing Business To The Next Level?
Let's jump right into it! Book a FREE Strategy Call with us and let's transform your online presence. We at Savior are specialized in getting you more high-quality leads and a significant return on all of your marketing investments! Why wait, start now!